Art heritage
Focused on the creation of unique spaces, Schmit Tradition has been able to combine its experience in arts and crafts with highly-specialised technological knowledge, thus promoting the values of tradition and innovation from a company with a unique know-how, for almost 200 years:

1818:Maison Schmit created by Frédéric Schmit who came originally from Luxembourg. Maison Schmit was a pioneer in the "stylish", luxury furniture and general fittings sector (most often for castles and boats);

1828:Maison Schmit set up its workshops at 22 rue de Charonne in Paris and developed its activity manufacturing furniture, fittings, joinery, decorations, shop fixtures, tapestries, etc.
During the second French Empire, the company became Schmit & Piollet in 1874 (partnering with the cabinet maker of Napoleon III), and saw monumental development, bringing together a team of decorators, cabinet makers, sculptors, weavers, joiners specializing in chairs, and bronze workers. It had a global influence and won several awards throughout the world at all exhibitions;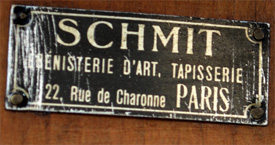 1878 and 1889:
Expositions Universelles in Paris:
Schmit
won a gold medal during this event;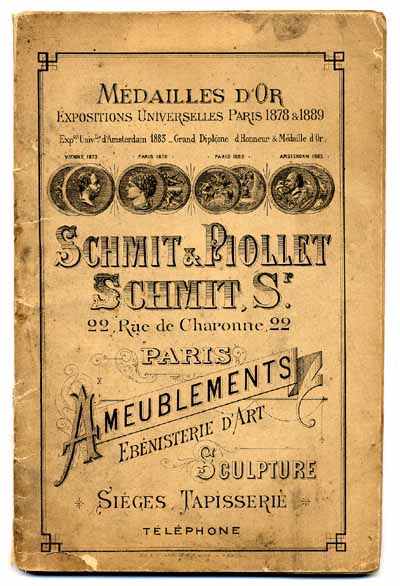 1900:
Activity expanded to fitting out Department Stores,
1919:
The company
Schmit et Cie
was run by two brothers, Jacques and Jean Schmit;
1935:
Several naval productions, including among other things, the lounges and cabins of the liner "Normandie", marking the high point for this activity;
1939:
Part of the workshops decentralized to Laugère in the Cher (in a former tile factory) at the instigation of the [French] Ministry for National Defence,
1948:
Move to the Saint Maur factory. Jacques and Robert Schmit set up their head office at 396 rue St Honoré. Activity was strongly developed, with the construction of several prestigious projects: The Bank of France, the Paris Opera, Orly airport, and numerous worksites fitting out the Tours de la Défense and the Tour Maine-Montparnasse, etc.
1962:
Split between Robert and Jacques Schmit. The latter set up his head office at 276 boulevard Saint Germain (Ets Jacques Schmit boasted a workforce of over 200 people at that time), until his death in 1973, when all the services were then grouped together at St Maur;
1980:
Creation of Jacques Schmit SA, with Mr Joseph Renard as its chairman;
1987- 1988:
several flagship projects: fitting out the head office of the Compagnie Financière du C.I.C., the Sumitomo Bank in Paris, the CommerzBank, the SHEARSON & LEHMAN Brothers Bank (all trades and professions), the L'OREAL head office in Clichy and the Christian DIOR premises in avenue Montaigne (fittings and cabinet work);
1990:
Creation of
Schmit Tradition
.
Schmit Tradition
assists the best luxury brands in the design and manufacture of their sales areas and their made-to-measure furnishings, from the most complex to the most prestigious.
Our teams accompany the greatest and most creative architects in France and abroad. A multi-cultural dimension with projects carried out in the biggest capitals: Paris, London, Berlin, New York, Hong Kong, etc.
The secret of
Maison Schmit
's long life is in always having known, since 1818, how to anticipate needs and changes, particularly in the world of luxuries, and to be constantly proactive with regard to its clients.